Commercial Real Estate Advisors
At Mile High Commercial Advisors we see ourselves as much more than a group of Denver real estate brokers.  We see ourselves as your advisors, partners and representatives in commercial real estate transactions.
Brett D. Davis
Managing Partner

T 303-623-8300
C 303-250-5878
brett@milehighca.com
Brett is the founder and president of Mile High Commercial Advisors (formerly ProTenant). Brett has been practicing commercial real estate brokerage for 15 years in Denver and throughout the country. Brett started in brokerage with Equis Corporation up until its sale and then struck off in 2008 to form a Denver based firm focused on service. Brett overseas all aspects of the business, but promoting a emphasis on local and regional firms with less than 15 facilities.
Brett's areas of expertise include: lease negotiations, restructures, relocations, dispositions, and build-to-suits. Brett's knowledge and approach ensure that corporate real estate decisions align with a client's core business objectives. In the past two years Brett has negotiated over 90 lease and purchase transactions valued at over $300 million.
Brett attended Colorado State University and holds a major in Finance and minor in Economics. Brett resides in downtown Golden with his wife and newborn son. Brett is a member of the Denver Curling Club and curls competitively in national and international bonspiels. Brett also enjoys hockey, golf, and a motorcycle ride when time permits.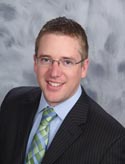 Joel T. Hansen
Assistant Vice President

T 303-623-8300
C 303-902-3591
joel@milehighca.com
Joel Hansen brings five years of experience as the assistant Vice President for the Mile High Commercial team. Joel's primary focus is cultivating new business with small and mid-size firms throughout the Front Range. His knowledge of current conditions and movement provides significant opportunities and leverage for his clients.
Prior to joining MHCA, Joel was a broker with ProTenant. Joel's background in commercial construction projects as well as client services fit perfectly with the MHCA service model.
Joel has a passion for travel and the outdoors. He has visited over 23 countries and continues to seek out new places and experiences.